COREinternational's team
Len Nanjad, Partner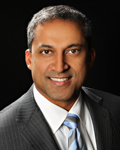 With over 20 years of progressive corporate and consulting experience in areas such as contact centres, broadcasting operations, and retail operations, Len specializes in organization design, talent management strategies, and change management programs that drive business results.
Through leadership roles with the LeaderCity Canada and other volunteer activities, he extends his passion for compelling conversations and creative problem solving.
Len holds an MBA from the Richard Ivey School of Business, a BA from The University of Western Ontario, with a double major in psychology and economics, and a Master of Human Capital Strategy designation from the Human Capital Institute. He has been a Certified Management Consultant (CMC) since 2001.
Areas of expertise
Organization design
Talent management (assessment, development, engagement solutions)
Change management
And for fun Len… travels, does yoga, watches movies, and enjoys family activities.