We work with your executives to unleash human capability. We identify challenges that hinder growth. Our processes and tools increase productivity by creating a structure that ensures people are working to the right level of complexity. Our insights align structure, leadership and strategy to transform your business and accelerate profitable, sustainable results.
But it's not all about data and tools and insights. Organizations are complex, dynamic human systems. Relationships are important. Working as a team is important.
Here's what our some of our clients have said about their experience of working with us:
We collaborate
We work with you to explain our complex principles in a straightforward, easy to understand manner. We are adept at solving your challenges with collaborative solutions that radically improve your business plan execution.
"We've reorganized before but never with such rigour, compassion, and commitment."
We are process driven
We apply a proven design and implementation process that yields the best possible results, while reducing risk and uncertainty. We examine your organization and identify problems by separating work from the people who do it. We then define roles to align structure with strategy, and work with you to implement your new organization. This leads to enhanced productivity by increasing accountability and establishing higher levels of trust at all levels of the organization.
"Thank you very much for guiding us through the "Core International System" and applying the up front discipline necessary to affect a smooth transition to our new organization. I'm delighted with the results."
we are a long term partner
We partner with our clients to create inspired workplaces through knowledge transfer and building capability. This ensures that powerful, positive results will be sustained in a way that provides value into the future.
"I committed to doubling our profits in five years; we did it in three."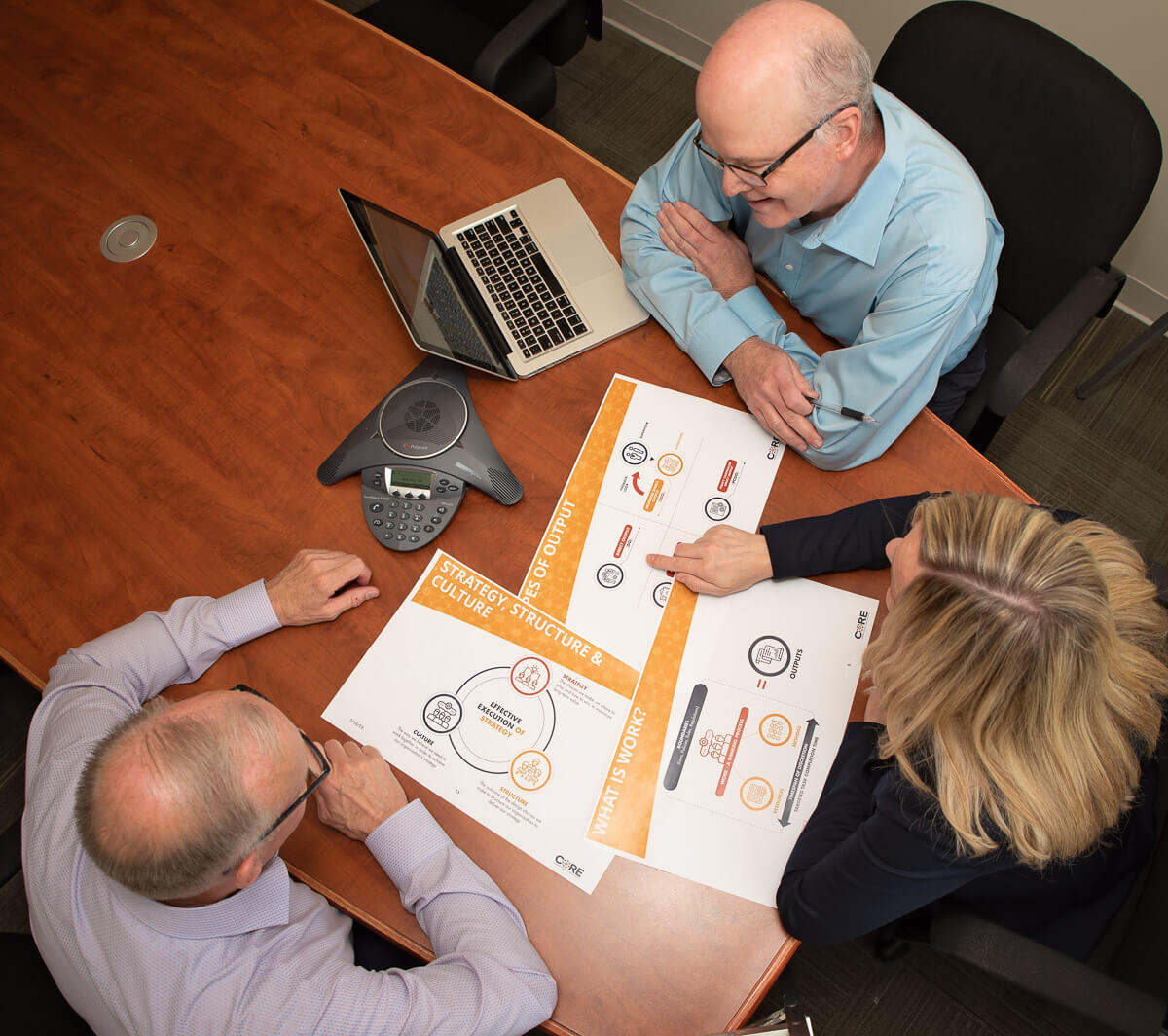 Since 1997, we have aligned organizational structure with business strategy, meeting exact client requirements to increase productivity, increase shareholder value and accelerate sustainable results.
"We're getting things done in 90 days now, that used to take us 3 months to do." 
For over 20 years, we have specialized in identifying organizational challenges that impede success. Our powerful principles pinpoint structural issues and allow us to co-create a solution that is customized specifically for your organization. The power of our principles and experience has been demonstrated across a diverse range of industries, including pharmaceutical, mining, banking, telecommunications, oil and gas, and government.
"I've never worked with a consultant who talks about work, organizations, and structure the way that CORE does. Your explanations are in-depth and crystal clear." 
3027 hARVESTER ROAD
BURLINGTON, ON
+1 416 977 2673
INFO@COREinternational.COM